Duration: 
Ten months | 2020-2021
–––––––––––––––––––––––––––––––––––––––––––––––––––––––––––––––––––––––––––––––––––––
Genuine is a one-stop shop for fact-based news. The platform partners with in-house journalists to offer trustworthy news sources for users, along with highly personalized and easy-access features. It aims to deliver a fresh news experience and empower their users to trust their information intake.
This project consists of two phases.
Phase one
 includes discovery and ideation. Including myself, we had a total of eight members on the team.
The responsibilities for the team are presented below.
Phase two
includes the low-fidelity prototype, user tests, iterations, branding, and high-fidelity prototype. Alexis Acquista and I equally contributed in all aspects of this phase.
Due to differences between team members regarding metric success, as well as busy schedules, the project timeline ended up longer than expected. Our greatest challenge was articulating and prioritizing findings throughout the research, while coordinating and organizing the different processes of team members in a way that would ultimately push the project forward in the same direction.
––––––––––––––––––––––––––––––––––––––––––––––––––––––––––––––––––––––––––––––––––––––
Provide reliable news sources to facilitate easing health crisis in local communities
Initially, this project started as a response to Covid-19. Through market research and initial surveys, the team identified an unmet need and
formed a hypothesis
that there was a
need for reliable local news sources
. During the early stage of Covid-19, people in the United States
did not receive local news information
that was
reliable
nor did they have the resources or support to be well informed.
Source: Brookings, April 8th, 2020
This inspired us to gather as a team to do something for the community. The team conducted a 
Understand what is available to the users
We conducted 
competitor analysis
on 10 major news platforms, focusing on the following aspects of each platform—navigation, the layout of content, localization, and features that might be relevant to our goal.
We also analyzed
brand strategy and features
 on 6 existing news platforms that align with our design direction (more neutral and fact-based platform) to better understand the problem space.
What do communities and newsreaders want?
To explore and validate our initial hypothesis, we conducted
desktop research
and
user research
through surveys and interviews in order to understand readers'
needs
and
why
those needs are
not satisfied
by the
current solutions
.
Key insights that drove our pivot and defined our design direction:
The national news is the top priority
Users pay more attention to national-level news compared to global and local news.
Skeptical about the reliability
Due to the amount of fake information, users are concerned about the authenticity of their news intake.
Learning through social media and personal network
Most people source information from digital media and from their personal networks.
Seeking real deal information
People want to obtain information in a straightforward manner i.e. no tricks or BS.
Consume non-biased news tailored to your diet
Our vision for our news platform is to empower our users to imagine a new future where you can consume
non-biased
news on a highly
personalized
and
user-friendly
platform.
One click to your news rundown for the day
Quick daily intake of digestible news provided for you, along with quick navigation that helps preview daily articles and browse through previously missed news.
Multimedia news for every occasion
Get news sources from your preferred media, whether it's watching the news during breakfast, listening to a podcast during your commute, or reading a news article in your spare time. We have them all for you.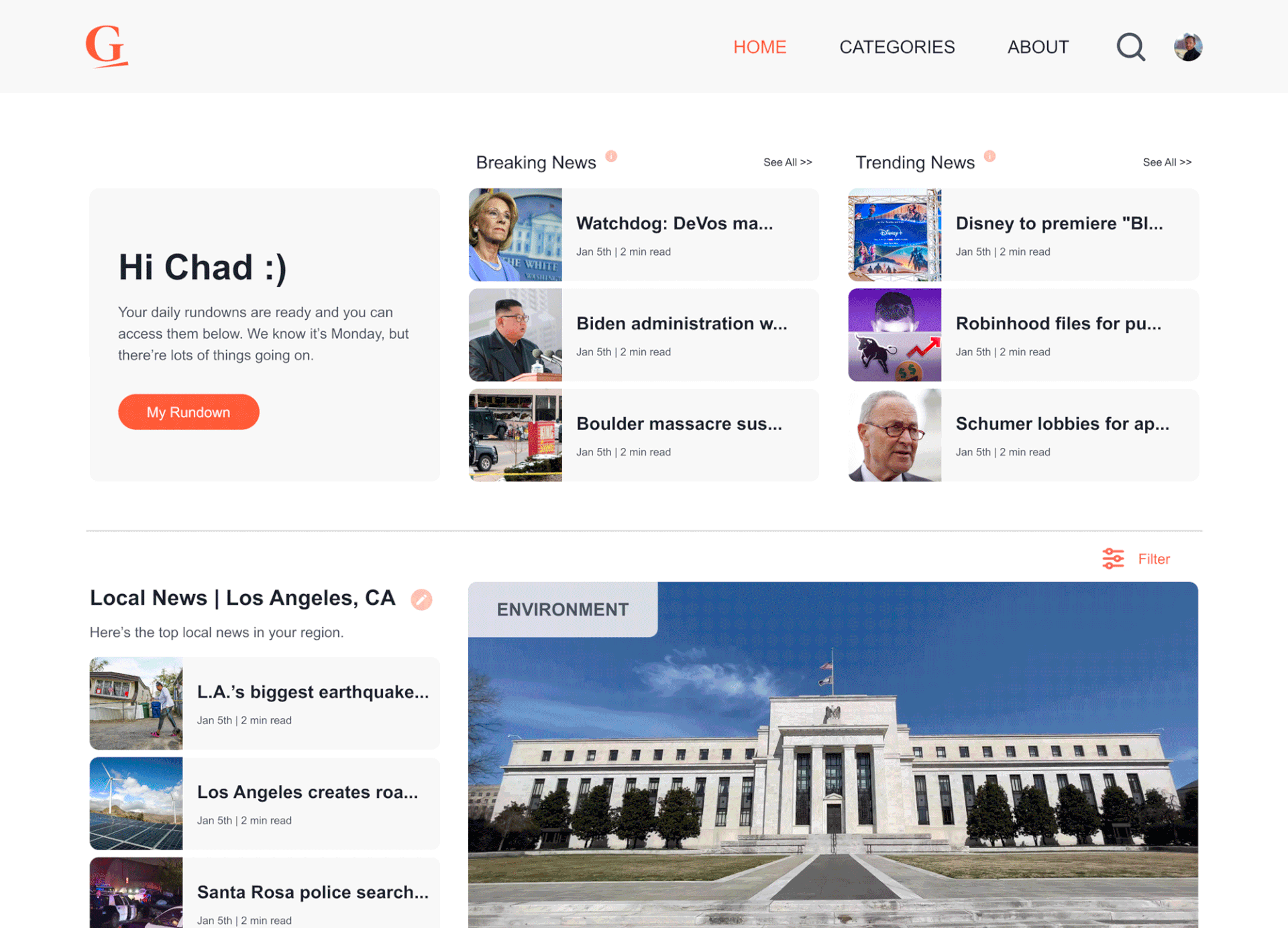 Get to know the communities
Know about what is happening around your community or get informed about what is near your family even when you're apart.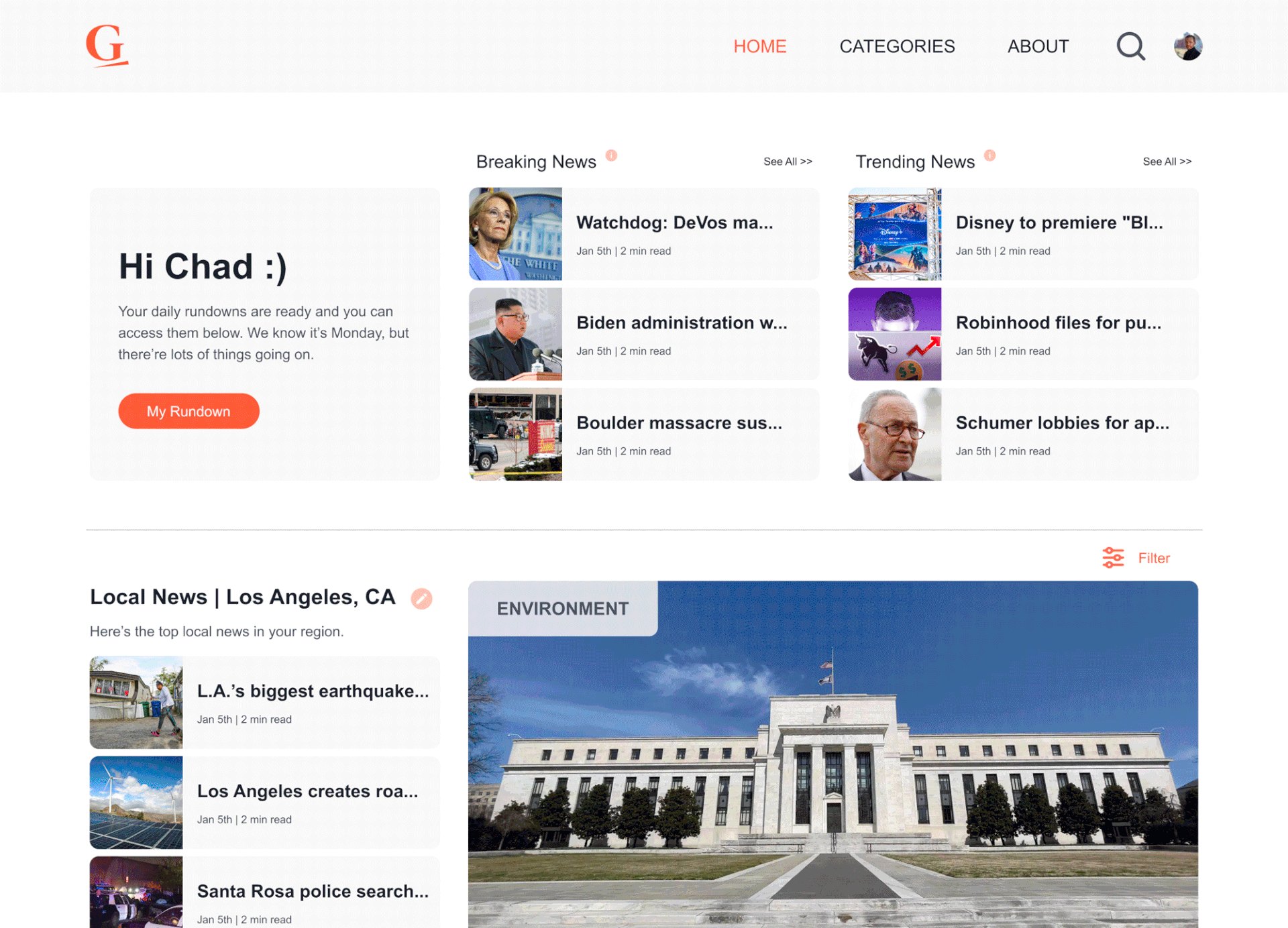 Read what you are curious about
We provide the option to browse the news based on your interests and gather more focused information so that you don't have to feel overwhelmed. Though, you also have the option to turn off filters in order to see a general overview of the news.
Where did we start
Read what you are curious about
In order to understand what was previously available to our users on fact-based news platforms, we conducted a competitor analysis of features in order to understand the problem space.
Our initial hypothesis deducted that users were not satisfied with their current news solutions. Because of this, our team designed a survey regarding individuals' news browsing experience, so that we could better understand their habits, needs, and expectations. In the survey, we asked questions from different angles in order to find potential opportunities for optimizing their experiences.
Based on a few trends we saw in our survey results, we conducted 5 in-depth one-on-one interviews with different individuals of various backgrounds across the United States in order to overall understand what people care about, their preferences, and motivations.
Through the
100+ survey responses
and
5 in-depth interviews
, we learned:​​​​​​​
Most people find their news from digital media or word of mouth. 
Users source their news intake mainly from social media (news platform/personal network) and online news platforms. Users often use social media as a starting point for their research.
Users hold general skepticism about the news they obtain.
 Many users claimed that they would fact-check news by searching on Google. 11.4% of survey participants claimed they dislike
untrustworthy
media, while 8.6% stated that they disliked news platforms with
biases
. Users also shared their disdain for
misleading, sensationalist headlines
. 11.4% of survey participants explicitly expressed that they disliked platforms with misleading information.
Users prioritize national, political, and breaking news.
 62% of survey participants ranked national level news as the most relevant to them while local news ranked the last. Other important topics typically varied, but leaned towards technology, health, and environment.
Users value the credibility of the news and the usability of the platform.
 Everyone who participated in our surveys and interviews expressed that they wanted to have a reliable news site that allows them to obtain information
fast, easily, and accurately
. Over 40% of the participants mentioned they value features related to
usability
(i.e. user-friendly, ordering options, search system, etc.). Another important feature mentioned by our participants is
personalization
. 17.2% of survey participants mentioned they wanted to have personalization features tailored to their needs, but we also noticed that a small amount of participants wished for an unbiased algorithm that wouldn't limit their access to information outside of their beliefs.
Participants persistently voiced their dislikes for distractions and obstacles.
​​​​​​​ Survey participants claimed that they disliked platforms with paywall (22.9%), irrelevant content (20%), and ads (11.4%).
Based on the insights we learned from the background research, we identified 3 types of users for our proto-persona, which enables us as designers to build empathy with our users.
Dream bigger and plan further. Not just covid, but news experience overall
Our
initial hypothesis
turned out to
not be fully accurate
. Users expressed little interest in their local news and were not specifically focused on searching only covid-related information. After reviewing all the insights and data, our team pivoted from being primarily a local Covid-19 response platform, to being a broader, aggregator-like news platform. We reframed the problem statement and asked...
The team did some group brainstorming, developed
user stories
and defined the
core features
of the platform.
User needs a reliable and personalized solution, so let's prioritize and deliver them a smooth experience
By reviewing the results we got from interviews and surveys, we prioritized all the features and
refined our MVP
:
Daily rundown, personalization, multimedia news, social sharing, and personal account management.
Bring it all together
After the MVP was established, we created our initial
user flow
and started
wireframes
to build the foundation of our final product. We conducted an internal test with initial wireframe/sketches, discussed and dot-voted some features to incorporate for further development.
Alexis and I teamed up and moved the project forward to
phase two
. We created an interactive,
low-fi
wireframe prototype and conducted
remote user tests with 6 participants
of various backgrounds who we recruited through the social network and mass media.
Though the
"think-aloud"
method and some
probing questions
, we learned some key takeaways from our users:
• Most participants
enjoyed the features
(Rundown, news summaries, personalization filter etc.) and cleanliness that the platform provides. One senior participant even asked if the platform was going to launch as a commercial product and that they couldn't wait to join.
• Some
feedback
from interactions were
missing
and therefore caused confusion.
•
Unclear copywriting
that caused users unsure of what to expect.
• User scenario was not as complete (ex.didn't consider business opportunities for non-registered/registered user).
• Sub navigation was not noticeable (Filter on the side of the home page).
• Want to access features from more than one entrance.
By bringing in the findings we learned from the user test, we conducted several rounds of
iterations
in order to refine the product interaction and our feature values. At the same time, we established the
branding
of the platform and created a
high-fi

interactive prototype
.
Test our assumptions and solutions
After polishing our high-fi prototype, we conducted
another quick validation
with our users and tested the
usability
of the
new features we added
, as well as
adjustments
we made to the user flow in previous iterations (multimedia page, ways to access rundown, personalization filter & sub navigation, etc.).
Given the limited resources, we were
unable to
gather more talents to
develop and launch
the actual product, but we were pleased to see the community responding to our initiative and
showing
support and excitement
to our pre-launched product. This project hopes to
inspire
people to pay more attention to the authenticity of their information intake, as well as
call for more creatives
to contribute in reshaping this problem space.
•
Collaborate with designers coming from different backgrounds.
This was the first time I collaborated with designers coming from a non-design background. Learning to play to each other's strengths can help piece puzzles together much easier. 
•
Take on the responsibility when needed. 
During the project, there were many times where I tried to speak up but hesitated. Ultimately these hesitations did not help to push the project forward. From these experiences, I learned that it is okay to voice your vulnerability as well as be confident in taking the wheel if no one speaks up.