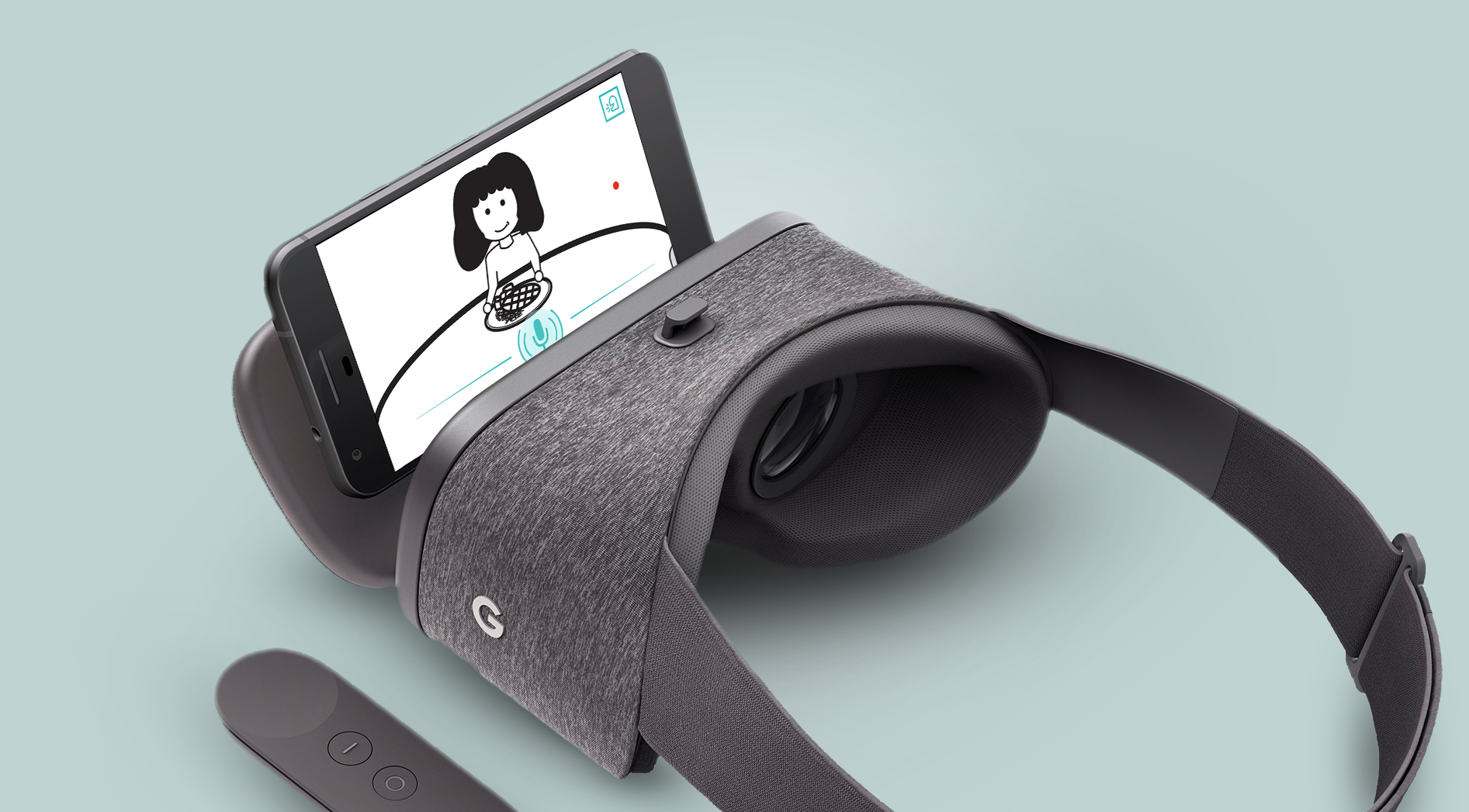 Audience:
Professionals who are afraid of social interactions but hope to improve networking skills
Deliverable:
Design Research, Virtual Reality Prototype
My Role: 
Product Designer & Motion Designer & Illustrator & Sound Designer 
––––––––––––––––––––––––––––––––––––––––––––––––––––––––––––––––––––––––––––––––––––––––––––––––––––––
While networking culture is promoted more and more those days, as someone who is naturally introverted, it's hard to break that comfort zone. I believe in the theory that you fake until you make it, but the cost of getting practices and the training by attending events is pretty high. 
Therefore, I came up with this
VR pre-training program with AI technology
"developed" by Unity that helps people who are afraid of social interactions to
prepare for connecting with other people during conferences
. This project is my personal capstone project, and it is the
phrase one
of a larger project to clean all the assets and develop the concept to prepare for the user test and evaluation during phrase two.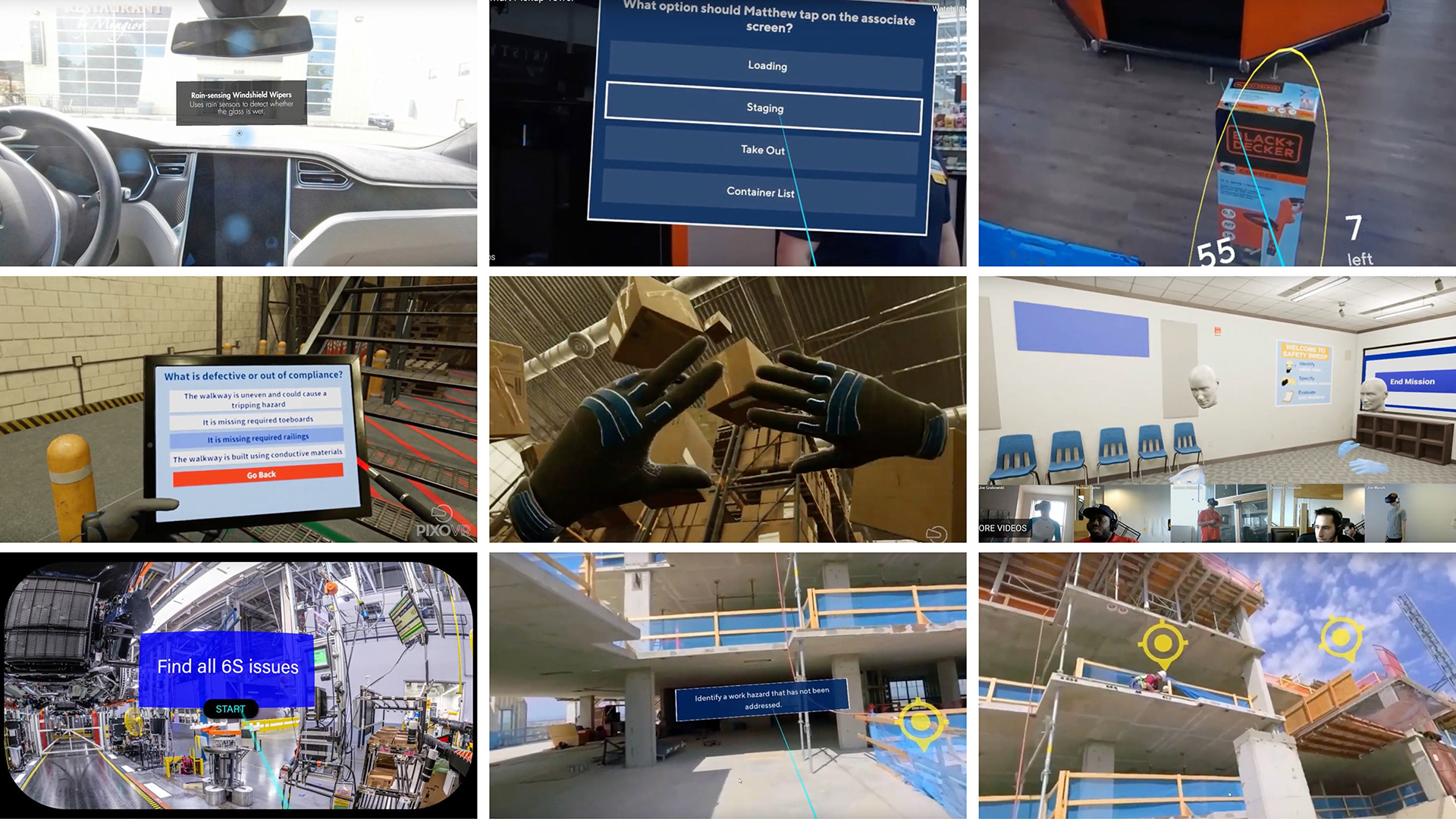 • Large companies are using VR to train their employees
• Interface for the VR pre-training program varies
Right now, in the market, companies are using VR technology to train their employees. For example, Skanska boosted its construction-site safety and Walmart improved its customer services through VR training. Throughout the background research, I found that the interfaces of the pre-training programs are different across fields. And this discovery led me to think about the following questions:
• What format or method is the best way to help people revise and improve their performance?  
• How to test a virtual reality program without developing and programming it?

The end goal of this pre-training app is to help the users remember people's names and profile information.
In the program, the users are trained through a virtual reality simulated conference experience, talking to other "participants" in different scenarios with AI technology-supported conversations, and handling emergencies that might be triggered by certain actions that the users take in the program. This system also allows our users to track their performance for review, analysis, and improvement.
The training program offers three different modes: 
• Easy — WITH on-screen script box during conversations; NO emergency pop-ups
• Elementary — NO on-screen script box during conversations; NO emergency pop-ups
• Advanced — NO on-screen script box during conversations; WITH emergency pop-ups
I created this
motion graphic approach
prototype with After Effect and Google cardboard based on the
advanced training mode scenario
. Because of COVID-19, I could not conduct the planned prototype walkthrough with a 360-degree camera and Google cardboard but had to switch to a graphic approach. 
The following
main features and sample actions
in the training session are presented in the prototype:
• Interactive mode — group conversation; individual conversation
• Behavior mode —"backpack"; grab food; grab a seat
• Emergency pop-up — split the drink
There were 3 stages of the prototype (version 1 to 3 from left to right presented below).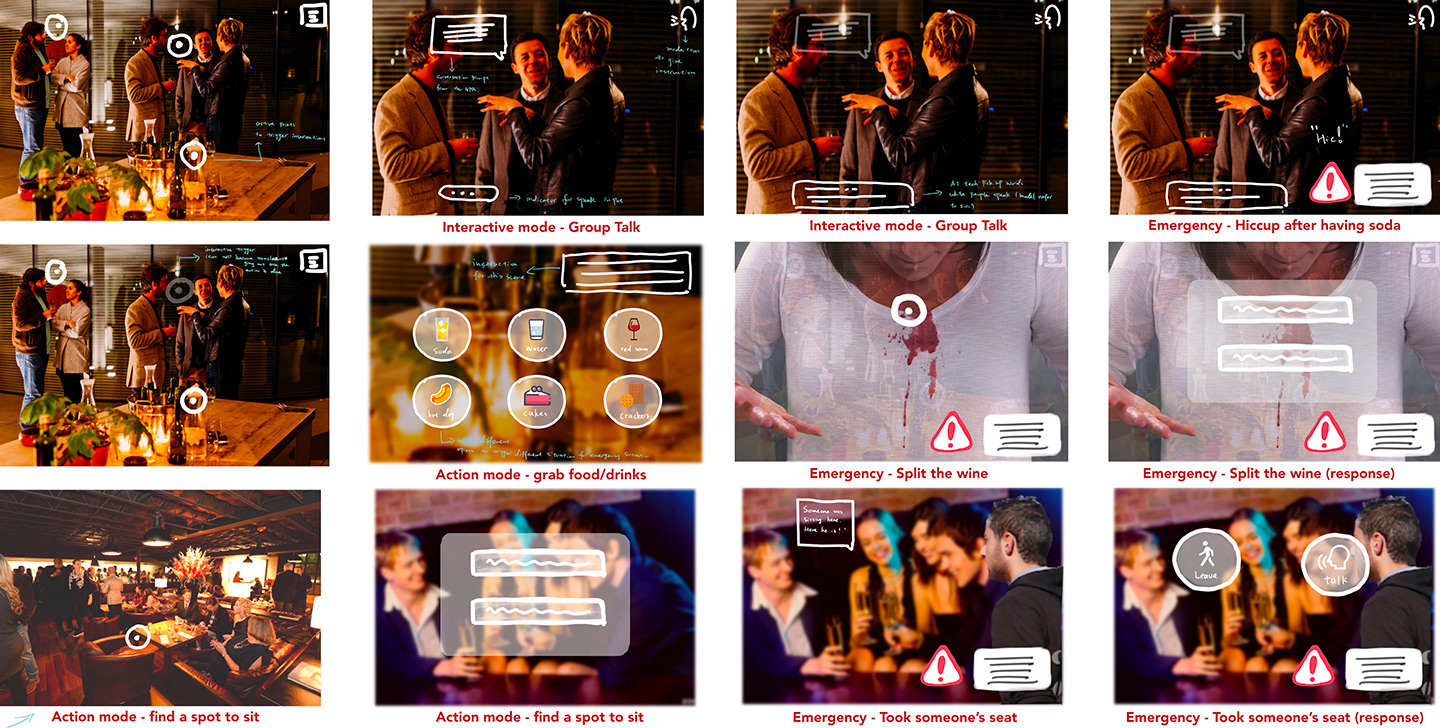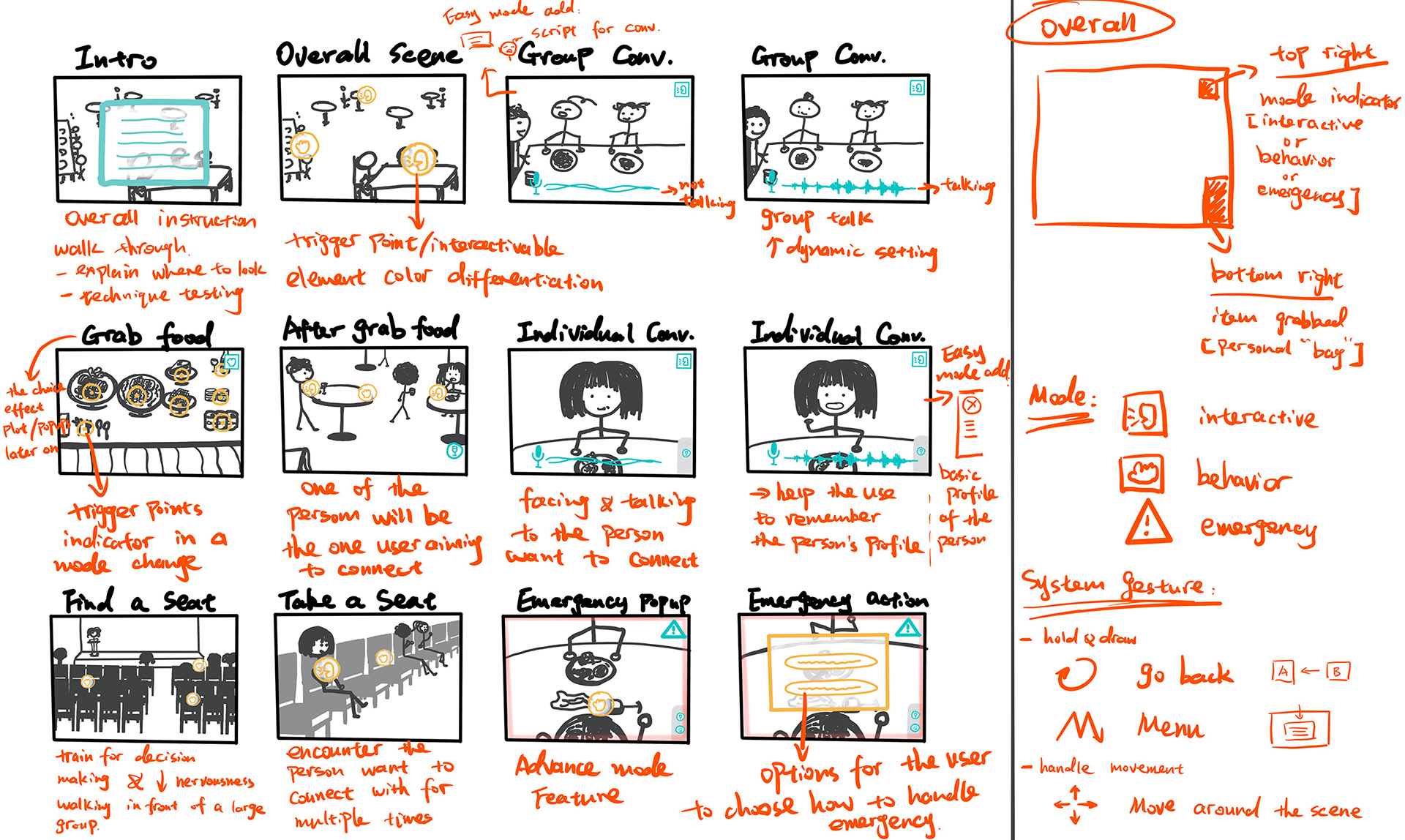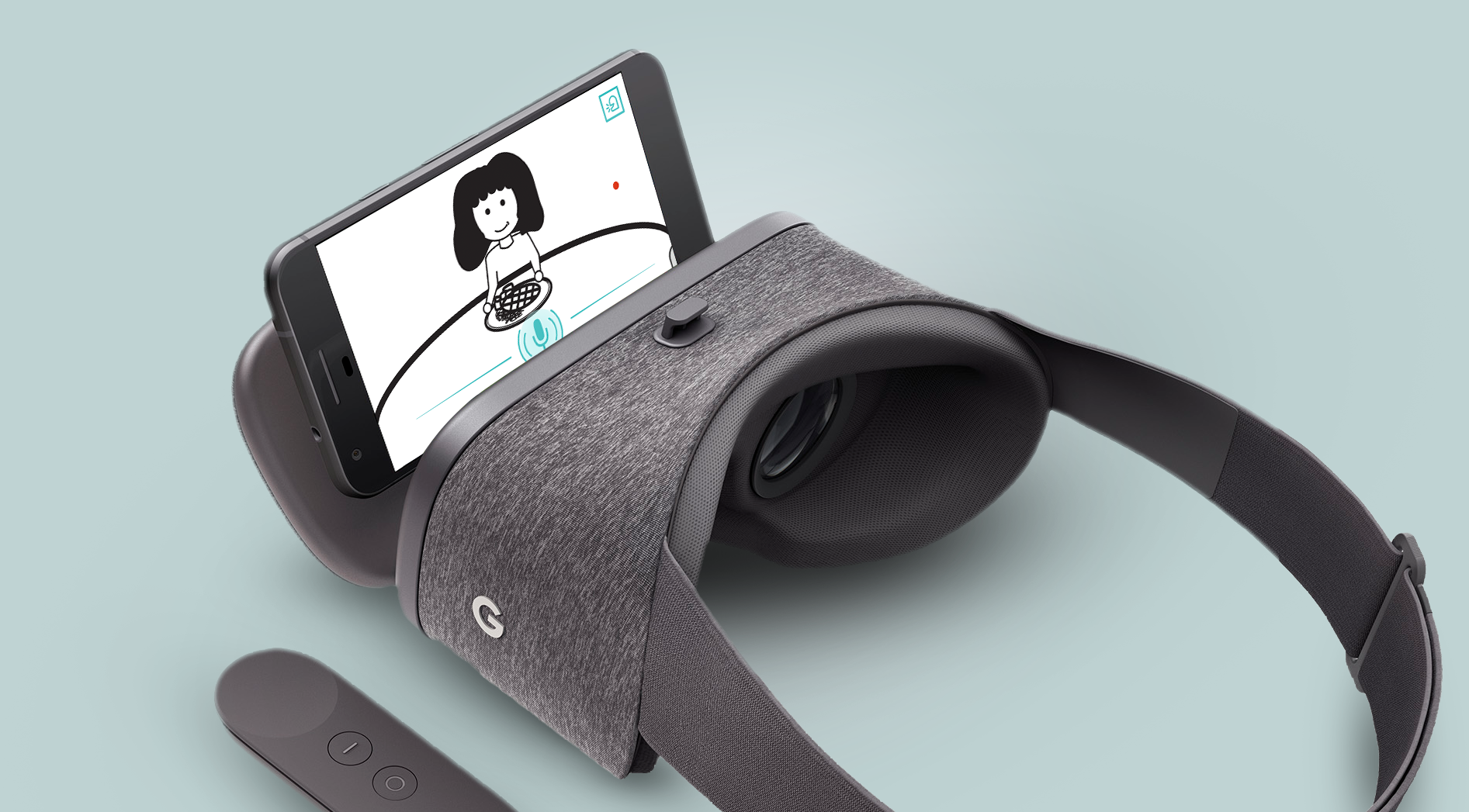 • A prototype based on a collage of stock images
• Planned out the flow of the whole design system
• Potential issues with UI interface elements
• Switched to a faster prototype approach with just sketches
• Design system changes:
      - evaluated based on independent skillset (speed of responses, interaction frequency in a group setting, etc.)
• UI changes: 
      - different trigger point indicator (interactive or behavioral)
      - Simplify the Interface for a more realistic representation of the scenario and improve the VR experience​​​​​​​
• AE motion graphic prototype 
• Google cardboard
• Challenges:
- How to direct users' attention while navigating through different scenes?
- How to keep the realistic VR experience but not overwhelming the users with different on-screen elements?
This capstone is a project that I chose to pursue as a challenge for myself to
experiment with adapting high technologies into the design
. And here're some key takeaways that I learned during the process:
• Design with limited resources.
I decided to play with virtual reality, but I don't have that much support from our design program in this specific field, so there's lots of self-learning and experiments. I was not able to access any actual VR set nor experts in that field from school. I tried to reach out, but it didn't work out. With limited amount of time, I decided to go on my own and work my way around.
• Pivots along the way.
The plan could have changed at any second based on reality. This capstone project took place during the COVID-19 pandemic. When I was about to set up the photoshoot for my final prototype, the whole world shut down. Therefore, I had to respond and pivot promptly. However, it was interesting to carry out a concept that has high technologies involved with a low-tech approach. 
If I had more time and resources, I would build the
prototype in a 3D environment
and conduct
user testing
for feedback and improvements.​​​​​​​