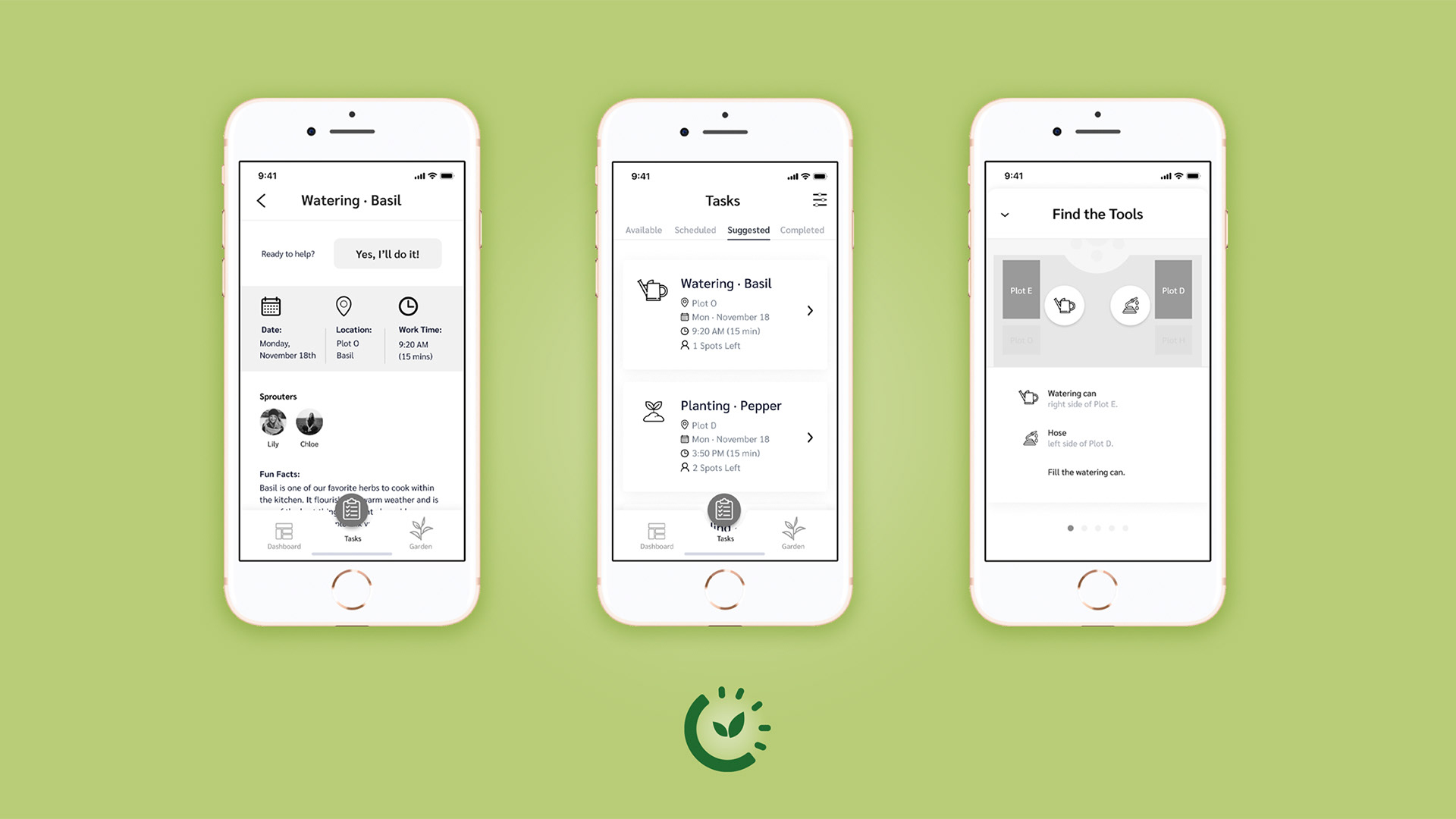 Client: 
American University Community Garden - Living by Learning initiative
Audience:
Students who are interested in gardening and want to involve in the American University community garden
Deliverable: 
Mobile Application
My Role: 
UI/UX Designer Lead & Motion Designer
Team:
Colleen Lloyd, Yuki Xue, Conor Hartman, Sherry Gui
––––––––––––––––––––––––––––––––––––––––––––––––––––––––––––––––––––––––––––––––––––––––––––––––––––––
American University community garden
aims to create a viable, urban garden on AU campus through teamwork and education, and involves the greater AU community in sustainable learning. However, our students are very busy and often do not know how to incorporate gardening tasks into their schedules. 
Sprout is a mobile app that makes it easier and faster for students to sign up for tasks by suggesting tasks that match with their synced smart calendar or schedule. Students can easily select w
hat they would like to participate in, whether it be watering for fifteen minutes or planting a new plot for an hour. The app also allows students to check the status of the free produce in the garden after all their hard work.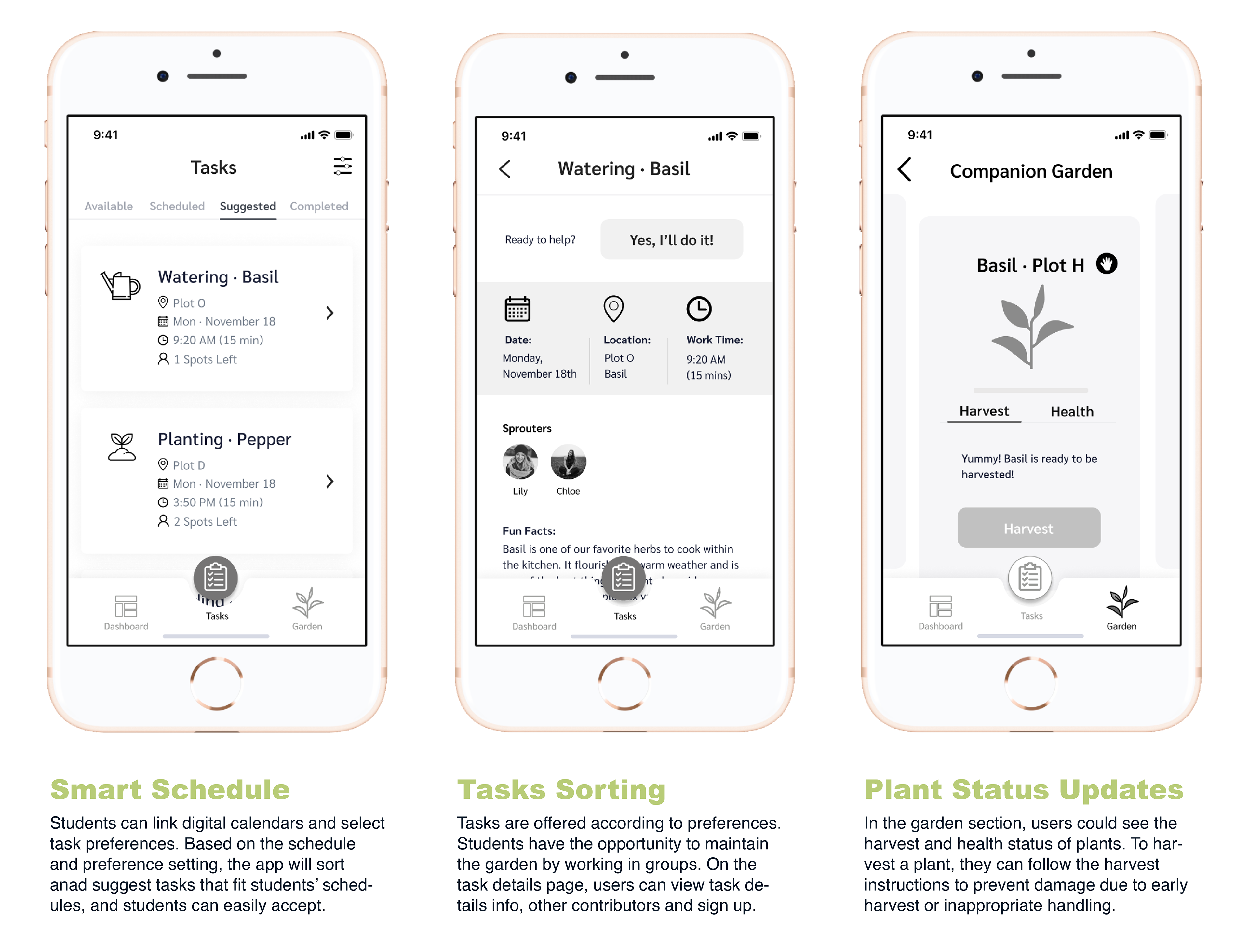 Smart schedule, task sorting, and plant status updates are three key features of Sprout app. For more
details
, please refer to the
prototype section
later or enjoy the
walkthrough video
below.
Our team conducted 
eight hours of observations
 during
different periods of the day
. I contributed 2 hours in the garden paying attention to:
• People's interaction with the garden
• People's general behaviors passing by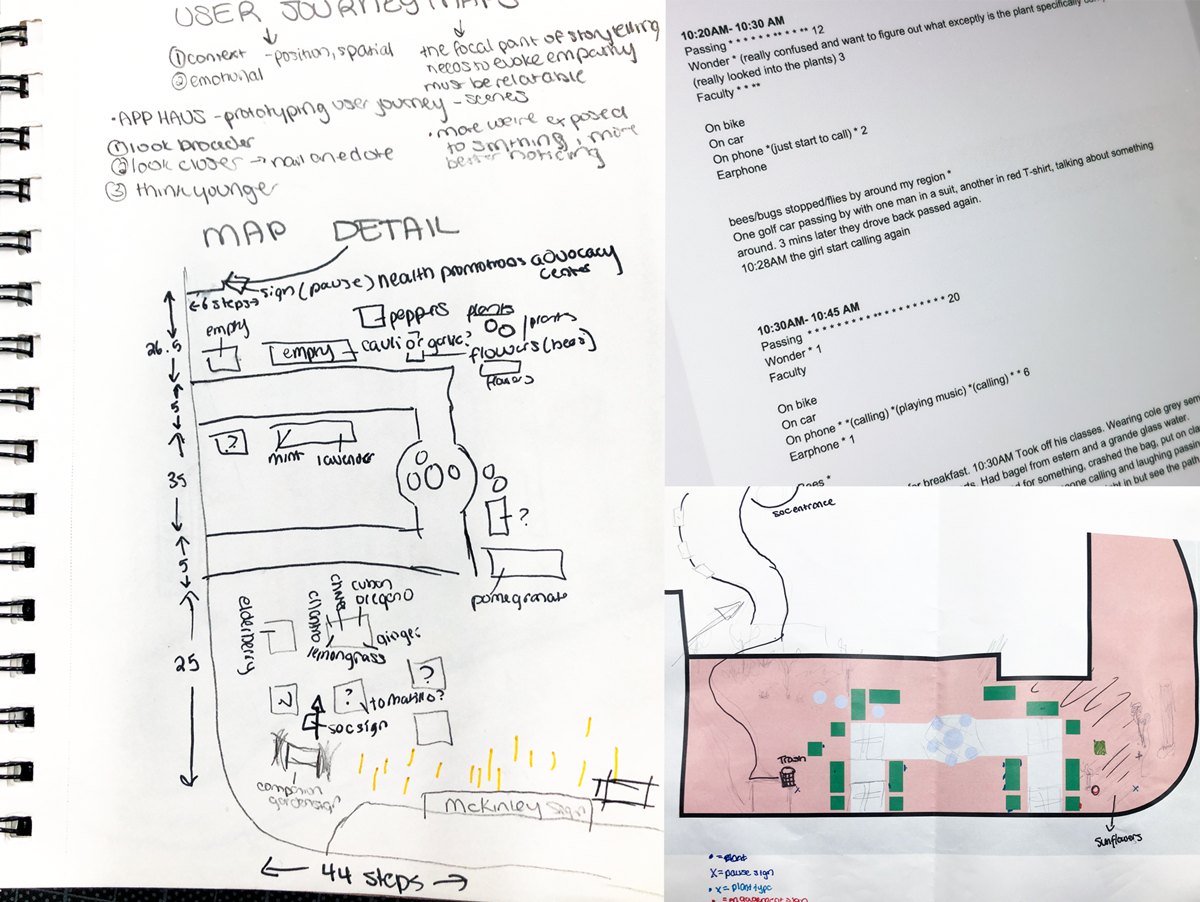 To understand students' interaction with the community garden better, we conducted an
experiment
by installing a hand-made
Instagram photo booth
in the garden and setting up a camera from a distance
for two days
for observational purposes. My role in this experiment was to design the frame, communicate with different stakeholders on campus to install, set up the camera, and observe students' interaction.
Through this experiment, we hope to assess the students' willingness to interact with the garden and test whether the current low-interaction problem is caused by poor signage in the garden.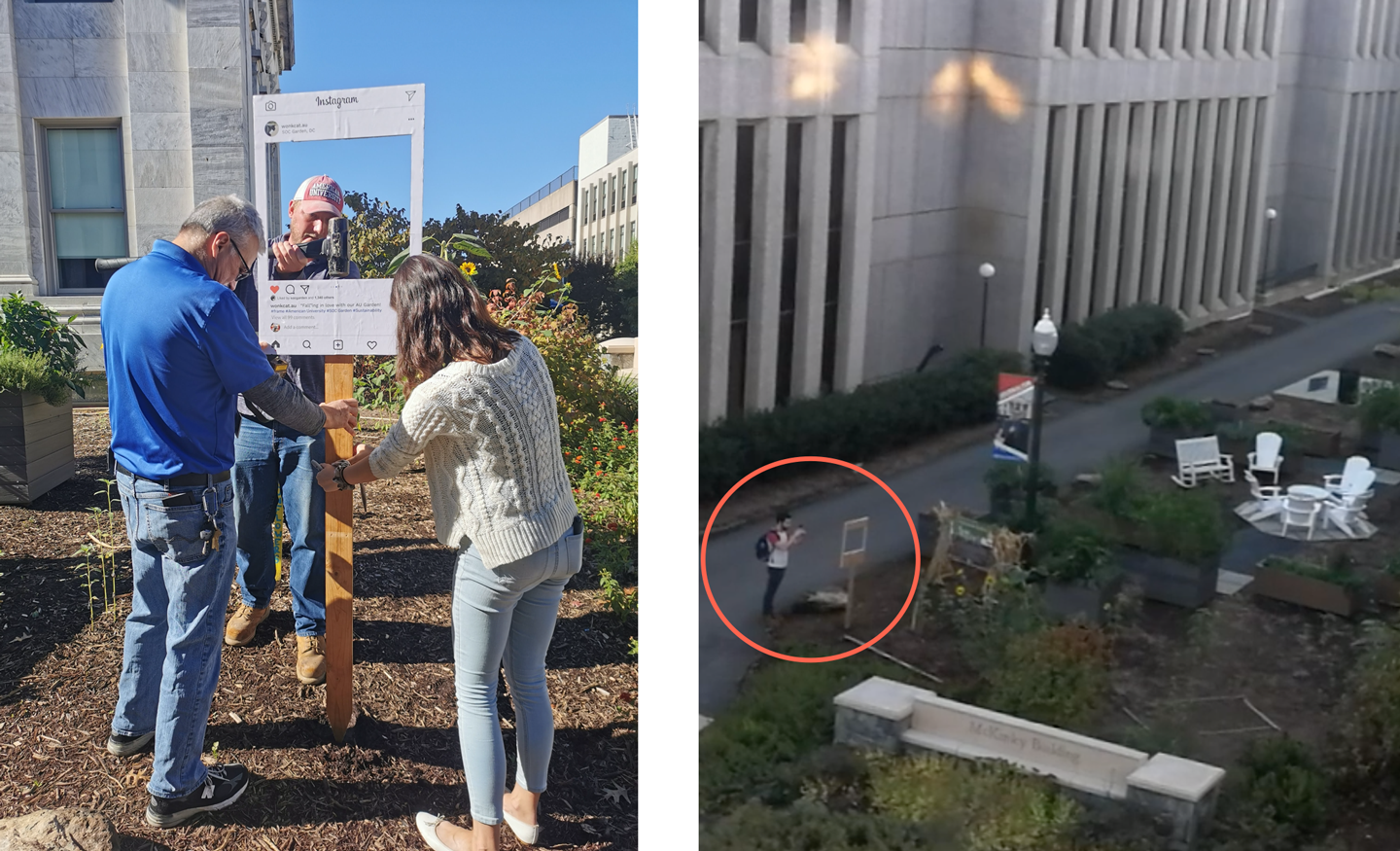 We reached out and learned from the following shareholders via
interviews and survey
:
• General American University community
• Facility Management Department on campus
• Living by Learning initiative — a group who is organizing the garden and encouraging student participation in sustainable activities on campus
• There are students who know about the garden and care about sustainability. 
• Students will be willing to work in the garden if they know when and how to. 
• Almost every one of the students has their phone with them most of the time.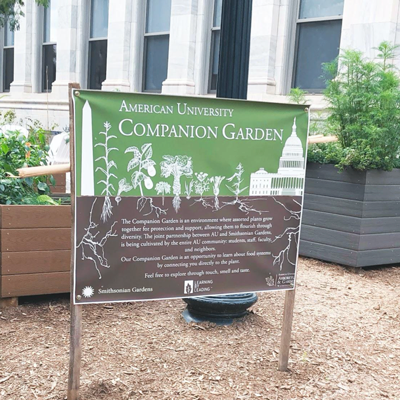 Students are very busy and do not have the ability nor know how to incorporate garden activities into their schedule.
Students in the American University community will perform gardening activities more if they have access to a system that helps them figure out their working schedules and instructions.
Based on our research and interviews, along with Caroline, a passionate freshman, our team created two other proto-personas: busy vegetarian junior with low environmental consciousness, and a grad student who is barely on campus. 

Below are samples of Monday schedules for our proto-personas. After I
mapped out their journeys
, our team worked together to mark their highs, lows, and touch points throughout the day. From there, we identified that all of our proto-personas could all use the app in different ways.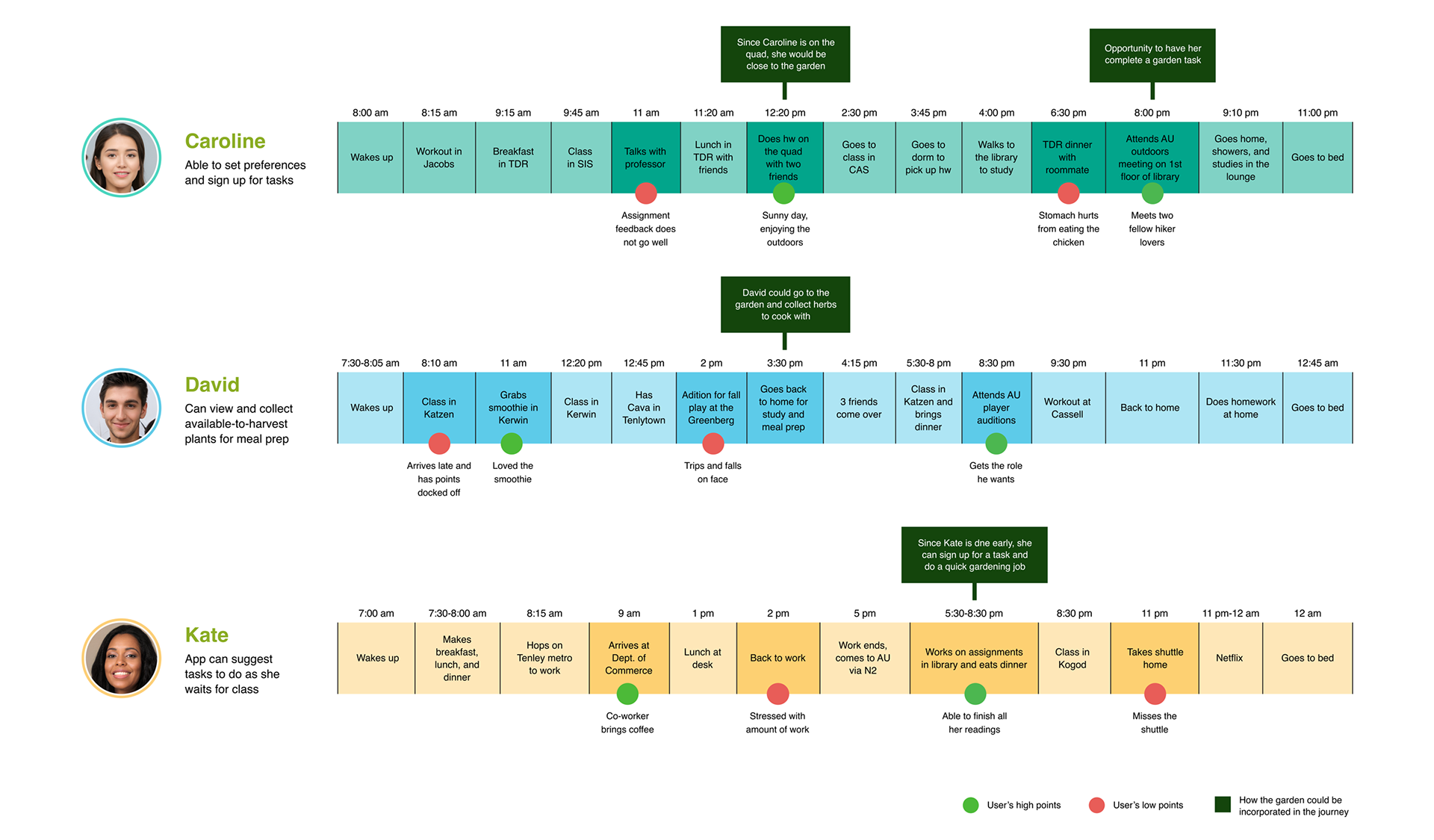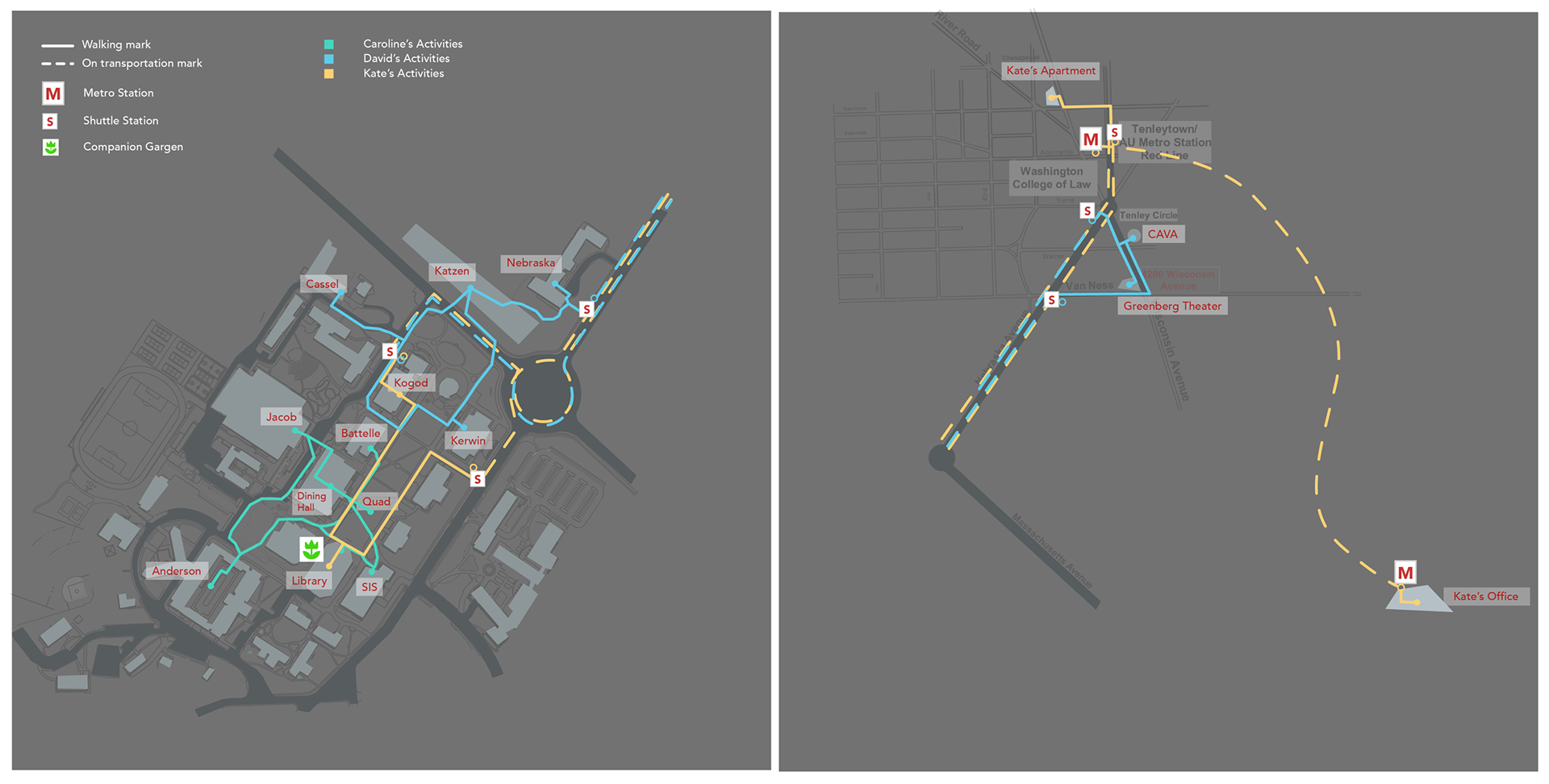 Our solution is to sync the student's smart calendar or preferences in order to allow them to select which tasks they would like to do based upon their schedule. This will be done through three features.
• Smart Schedule:
 Students can link digital calendars and select task preferences. The app will sort and give roles that students can easily accept.
• Task Sorting: 
Tasks are offered according to preferences. Students have the opportunity to maintain the garden by working in groups.
• Plant Status Updates:
 A garden map allows students to see which plants are available to harvest or which require more attention.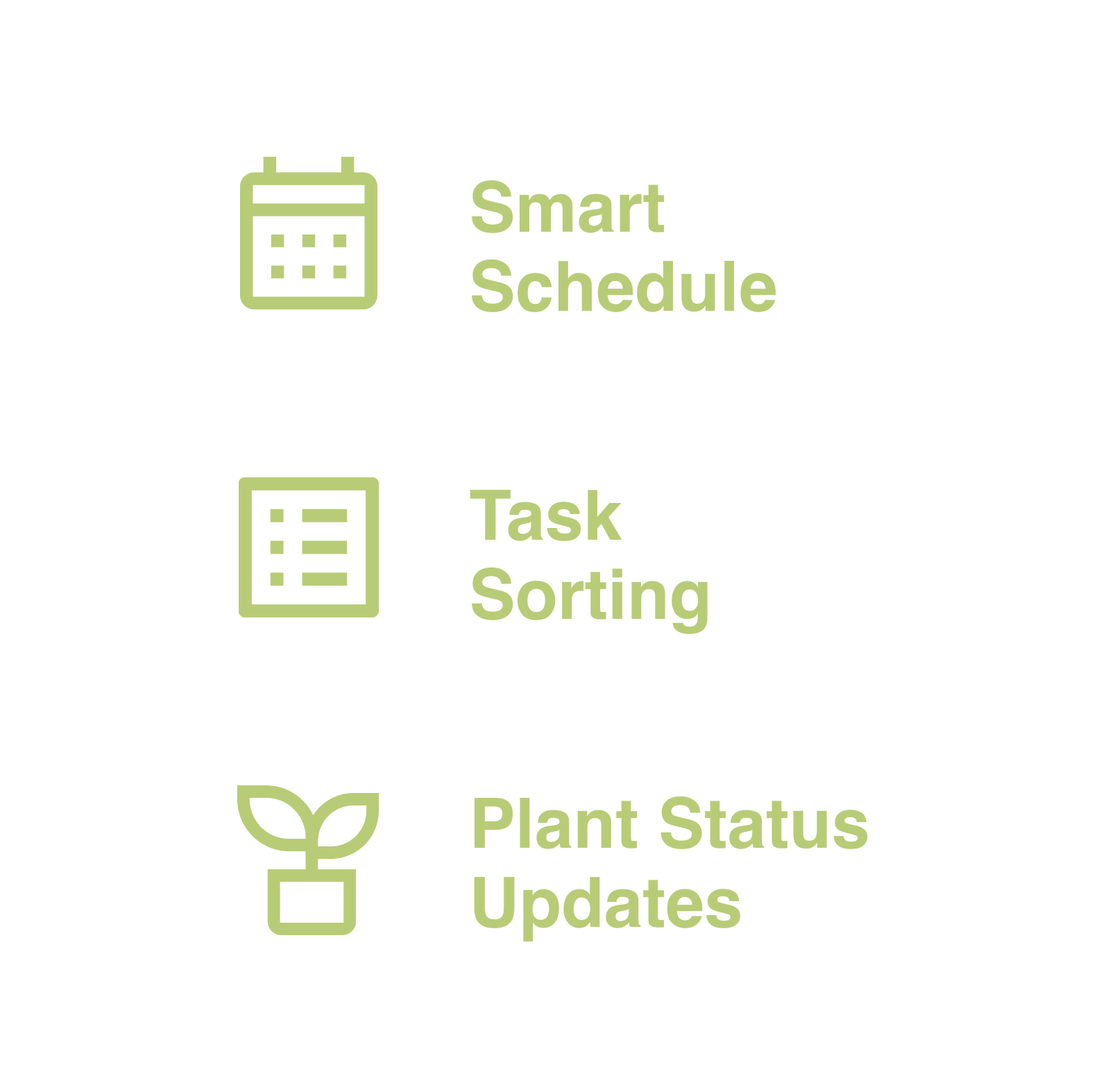 Flowchart: Users, Tasks, and the Garden
The system can be divided into three sections surrounding the users, the tasks, and the garden. The flow of the app is designed based on our three key features. Check out the
full-scale flowchart with user journey highlights
HERE
After developing our paper prototype, we conducted
three rounds of user tests
with students on campus. Through our prototyping and user testing iteration process, we learned that the users really cared about the task time and group working info. Therefore, we made changes to emphasize the information that users cared about and simplified the flow of signing up for tasks.
Iteration Process: Emphasize and Simplify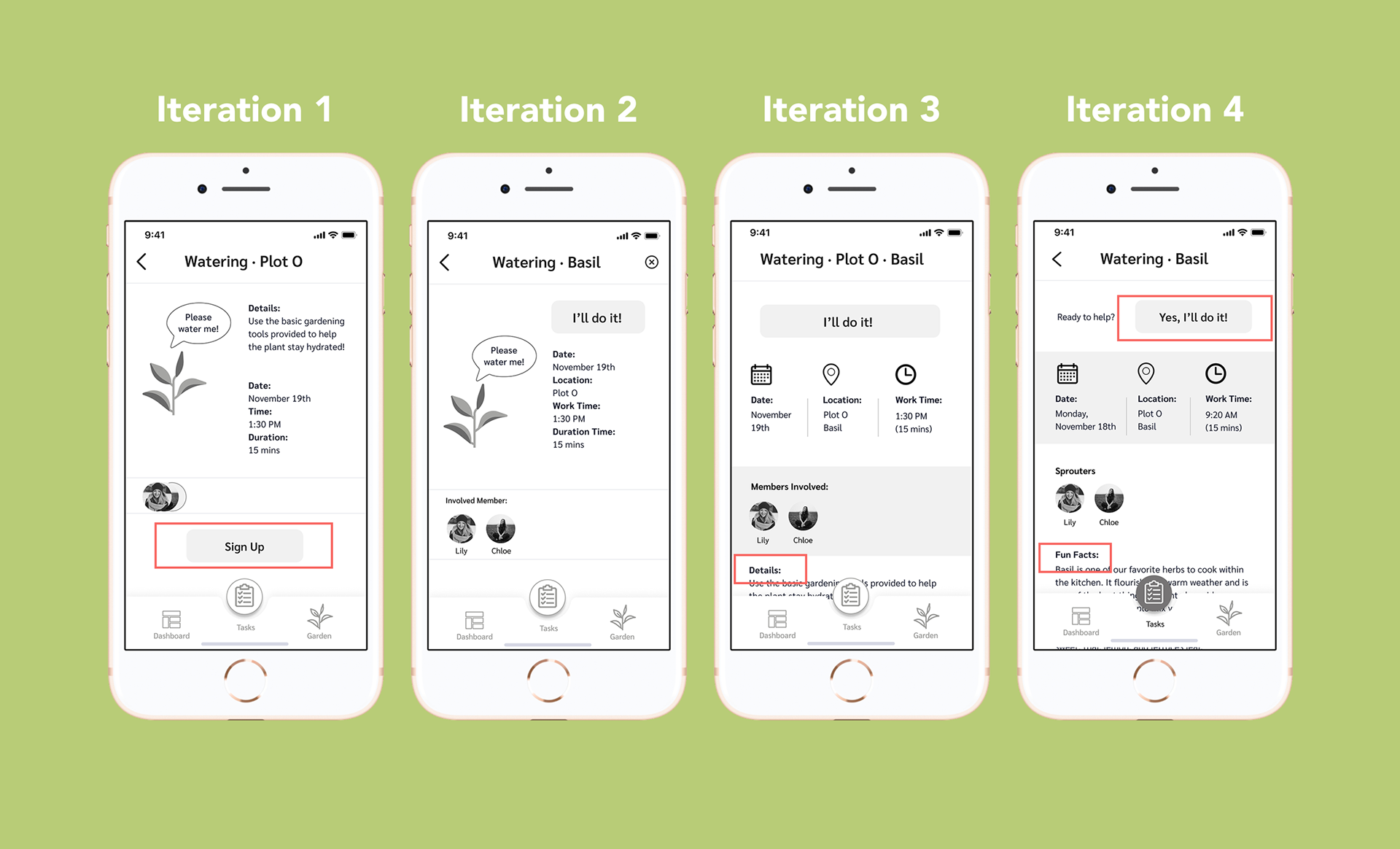 Iterations—Task Sign Up Page
• Rearranged call-to-action button to a more noticeable position to increase user interactions
• Highlighted information that our users look for the most during user testing (date, location, work time)
• Replaced "Details" with "Fun Facts" since most of the tasks are self-explanatory, and our users mentioned that they don't need the information in "Details"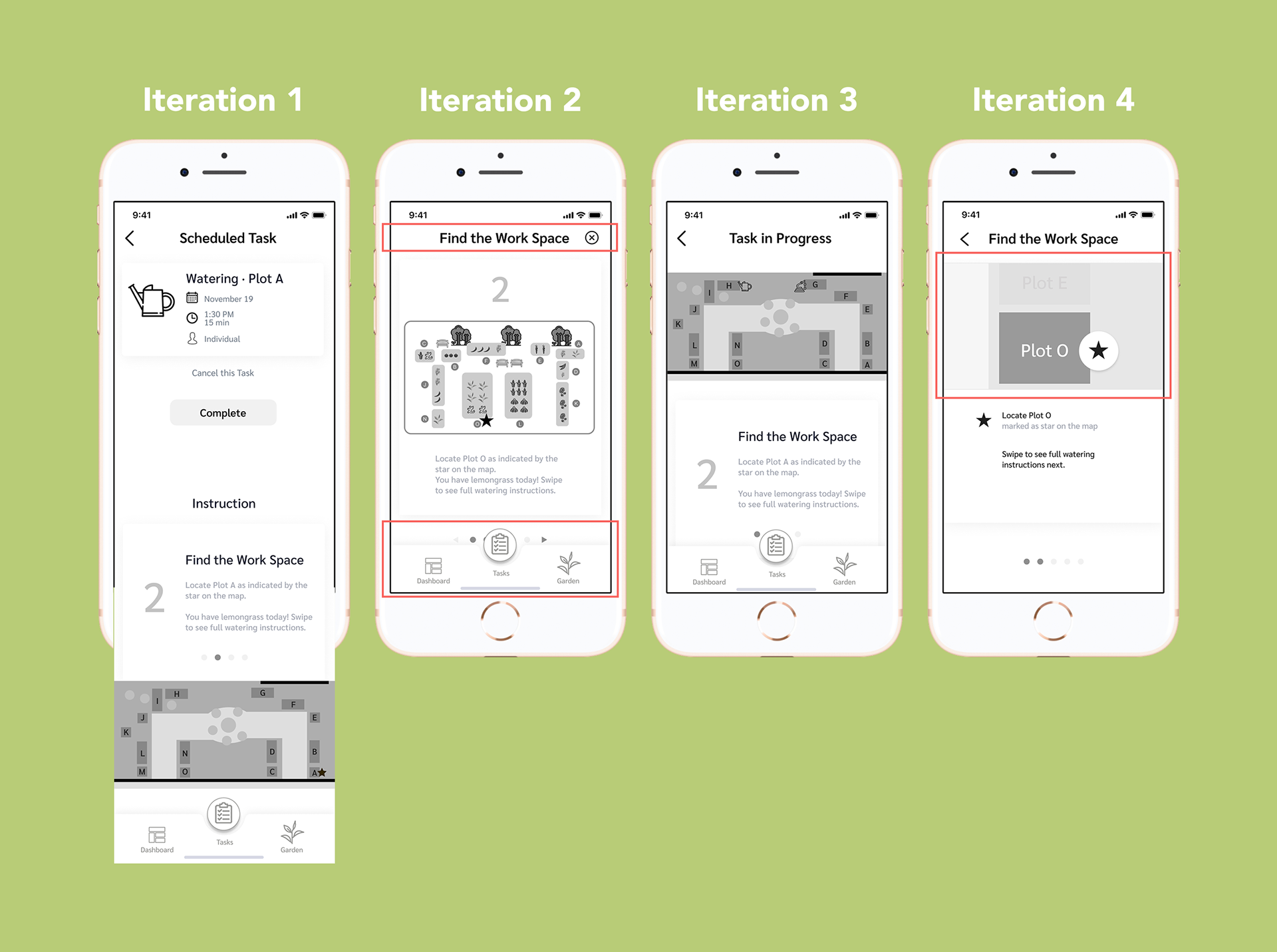 Iterations—Task Instruction Steps
• Cleaned up the cluttered unnecessary elements to achieve a more explicit hierarchy
• Reduced the amount of information presented in the map and reading texts to help navigate our users' attention
This is a team project with three other designers. I participated in every single part of the process and served as a team leader. During the design process, we reached out and worked with different departments and stakeholders in the conversation of community garden around campus. Here're some key takeaways that I learned during the process:
• Collaboration is the key.
We conducted experiments and observations in different ways. Without learning and working with various stakeholders in this conversation, we would not be able to learn all the insights and accomplish the experiment.
• Let the strengths shine.
School teamwork could be tricky and painful. However, in this project, I've learned the importance of assigning works based on people's strengths for a high-performance team.
If we have the chance to
collaborate with the Living by Learning initiative
in the future, it would be interesting to
release a beta version
of the app and see how it works on campus.