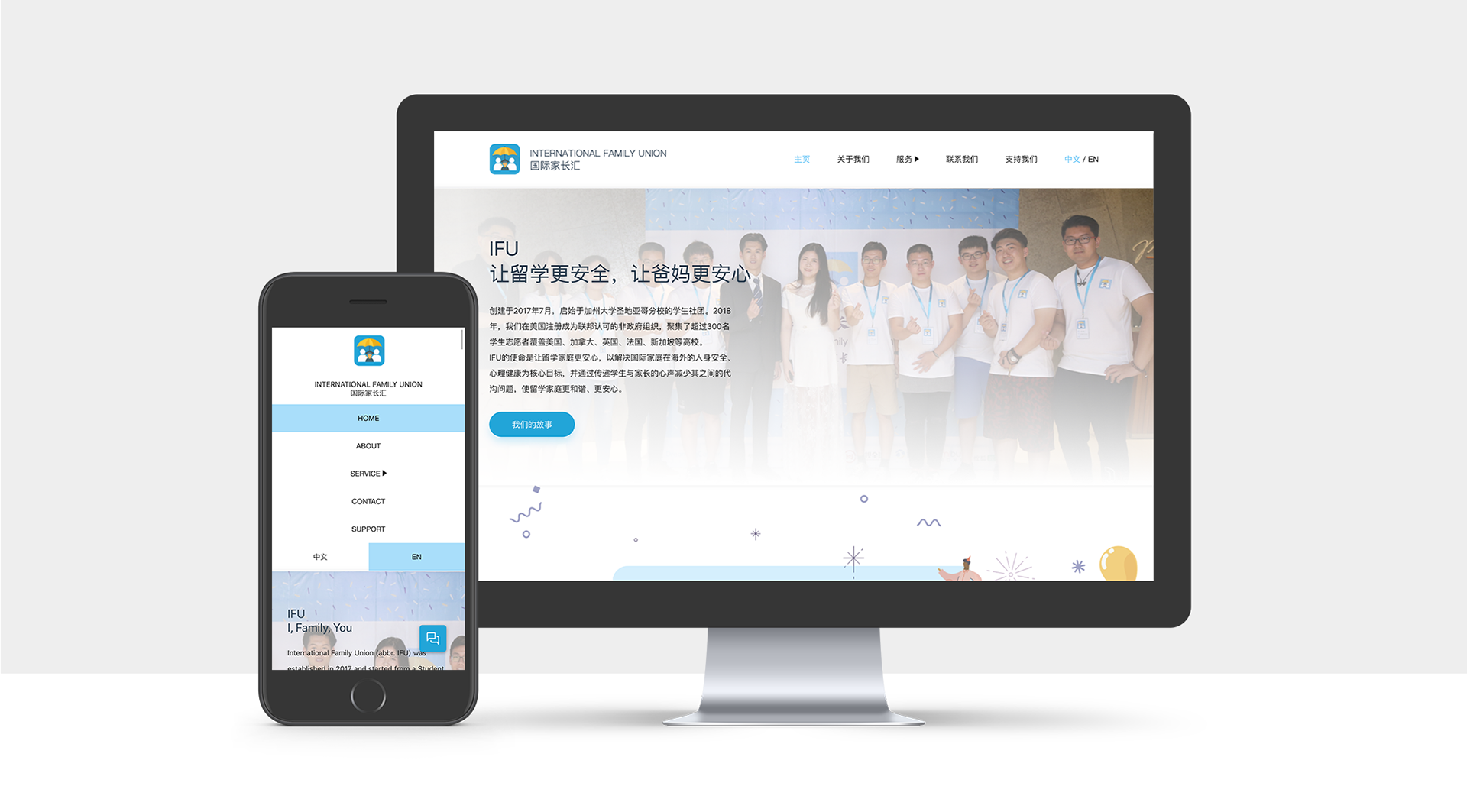 Client:
International Family Union (IFU)
Audience:
Chinese students who are currently studying abroad (Mainly in the US and Canada region) and their families; Prospective families or people who are interested in studying abroad experiences; Potential donors, partnership sectors; Talents who share the same passion and want to join us
My Role: 
Product Designer & Manager of the Technology and Design Department (IFU Web 2.0); UI/UX Designer & Front-End Developer (IFU Web 1.0)
Current Team:
Judy Yen, Nick Zanetti, Zeqi(Vicky) Wang, Wanwei(Lily) Huang, Haoyang(Eric) Chen, Sherry Gui
Previous Contributors:
Yutao Ma, Hao(Daisy) Li, Xinyi He, Cong Du
Duration:
 This is an on-going project while I am serving in the 
in-house design team
at IFU (1 year–present).
                 4 months (IFU Web 1.0);
 On-going
(IFU Web 2.0)
Problem
International Family Union (abbr. IFU) was established in 2017 and started from a student organization at UCSD. In 2018, IFU became a registered Non-Governmental Organization in the U.S., actively connecting and serving international students and their families with more than 300 student volunteers covering the U.S., Canada, the U.K., France, and Singapore. 
IFU committed to solving international families' oversea safety issues and information asymmetry. We aim to reduce the anxiety between international students and parents, and increase the connection between them by conveying their voices to each other.
Solution
In the beginning, the website served the purpose of an
informational site
, to eventually showing our
NGO branding
and a
dynamic online community
. It serves as a platform that
connects different stakeholders
, such as prospective students, international students who are studying abroad and their families, people who are working towards the same goal willing to help build the community together, and potential partnerships and donors.
This is an on-going project.
Things are changing up almost every week, and more content will be uploaded along the journey :)
Meet David, Xiao Zhao, Alex, and Lucy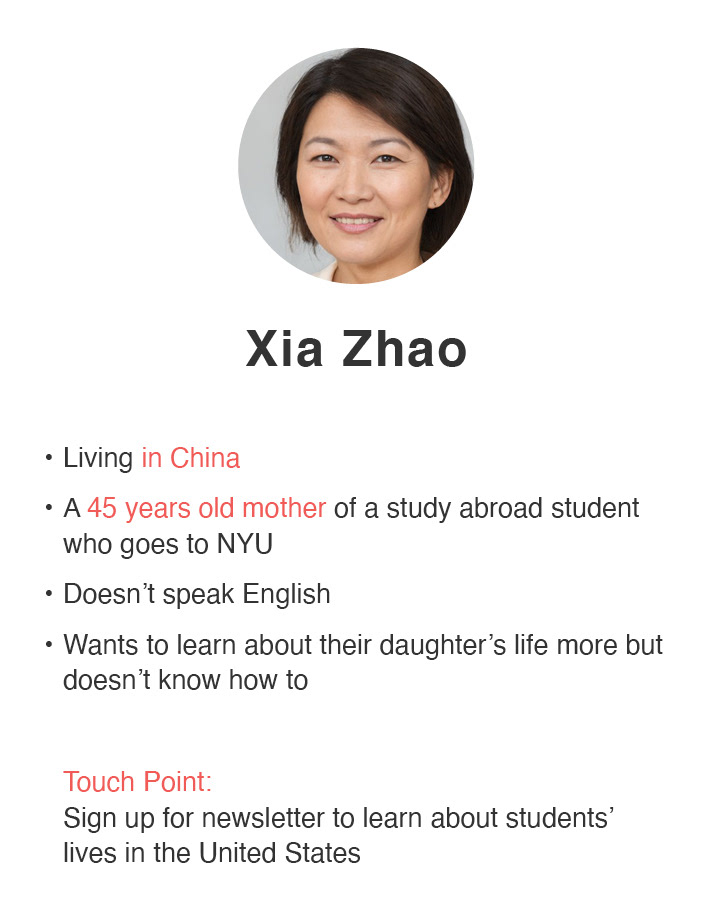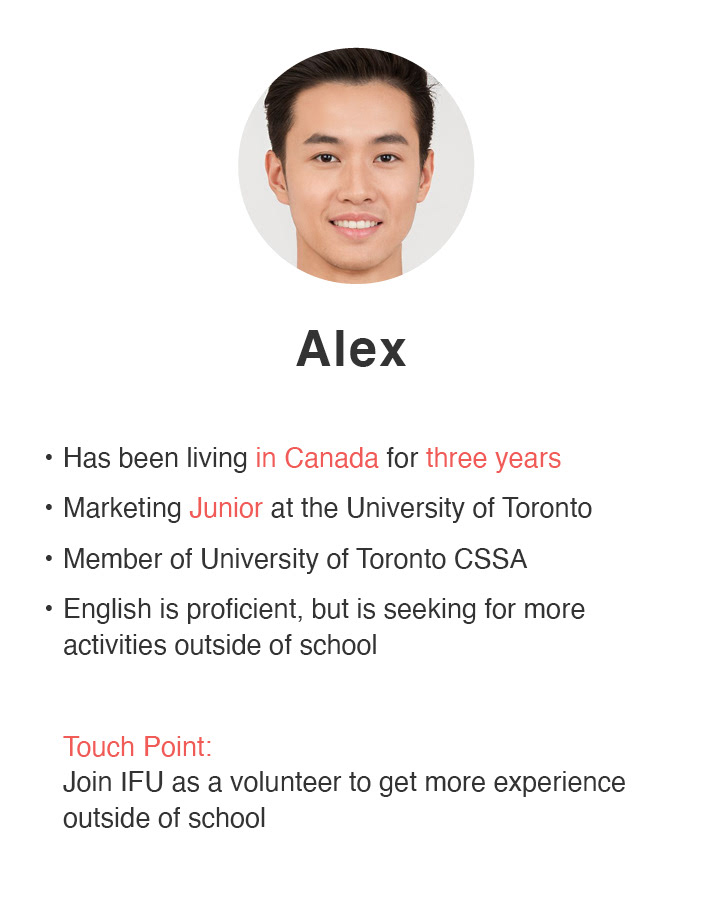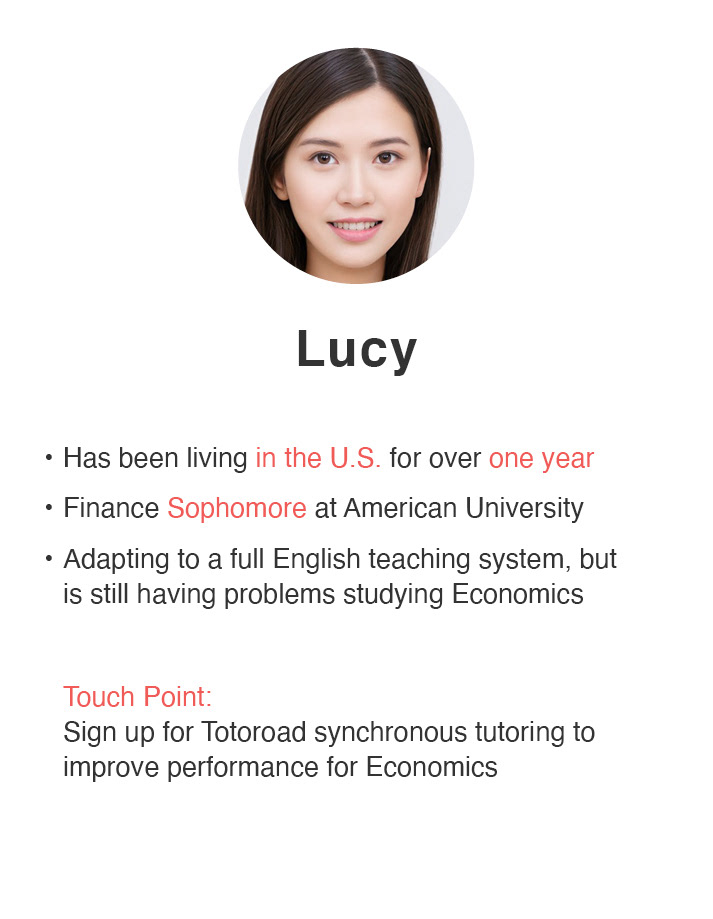 • Served as a website for basic information 
• Fast turnover with limited support from both in and outside of the creative team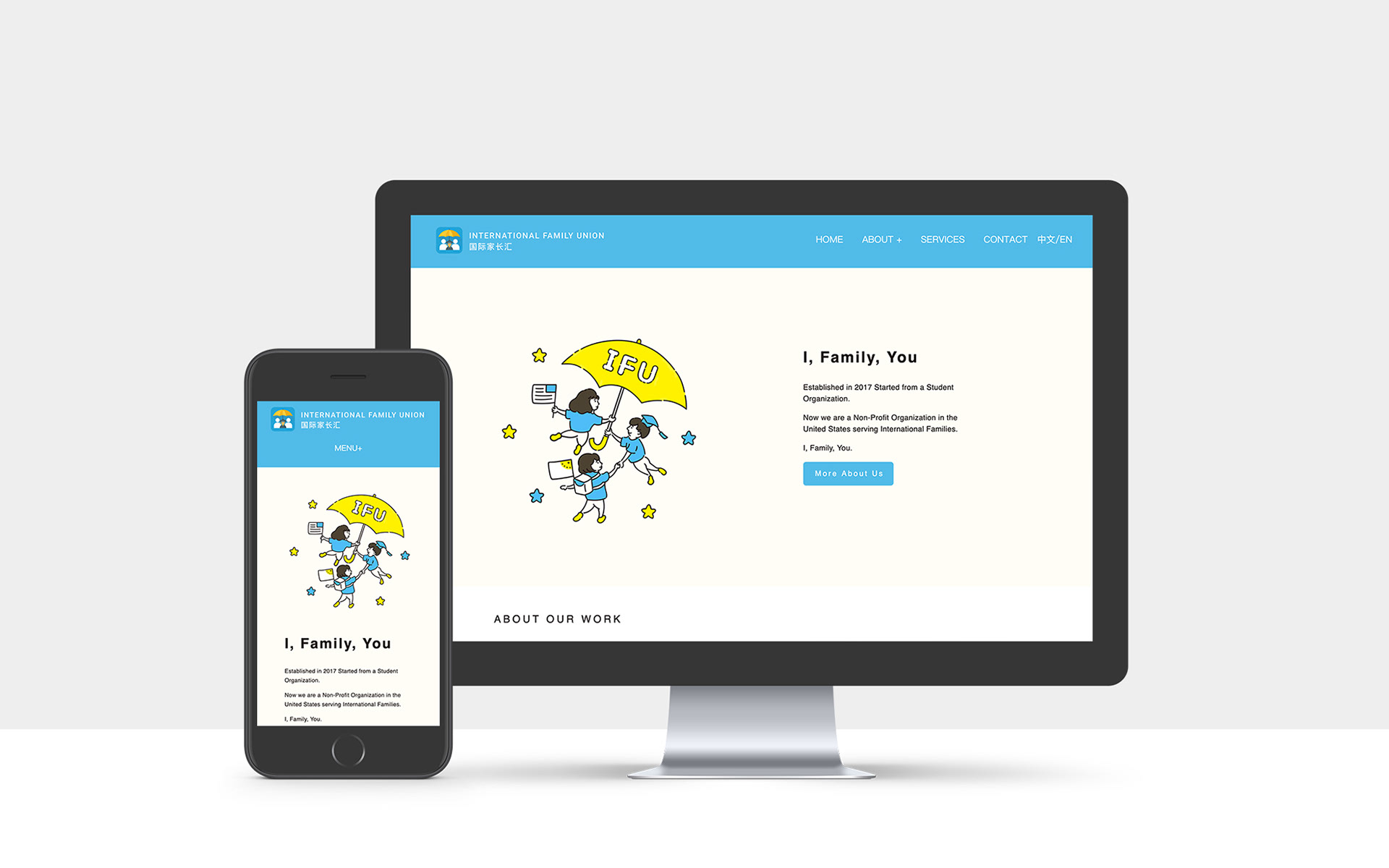 • Visual style upgrades
• A more thoughtful information structure with more diverse and fulfilled content
• New features to fulfill the needs and the purpose of the website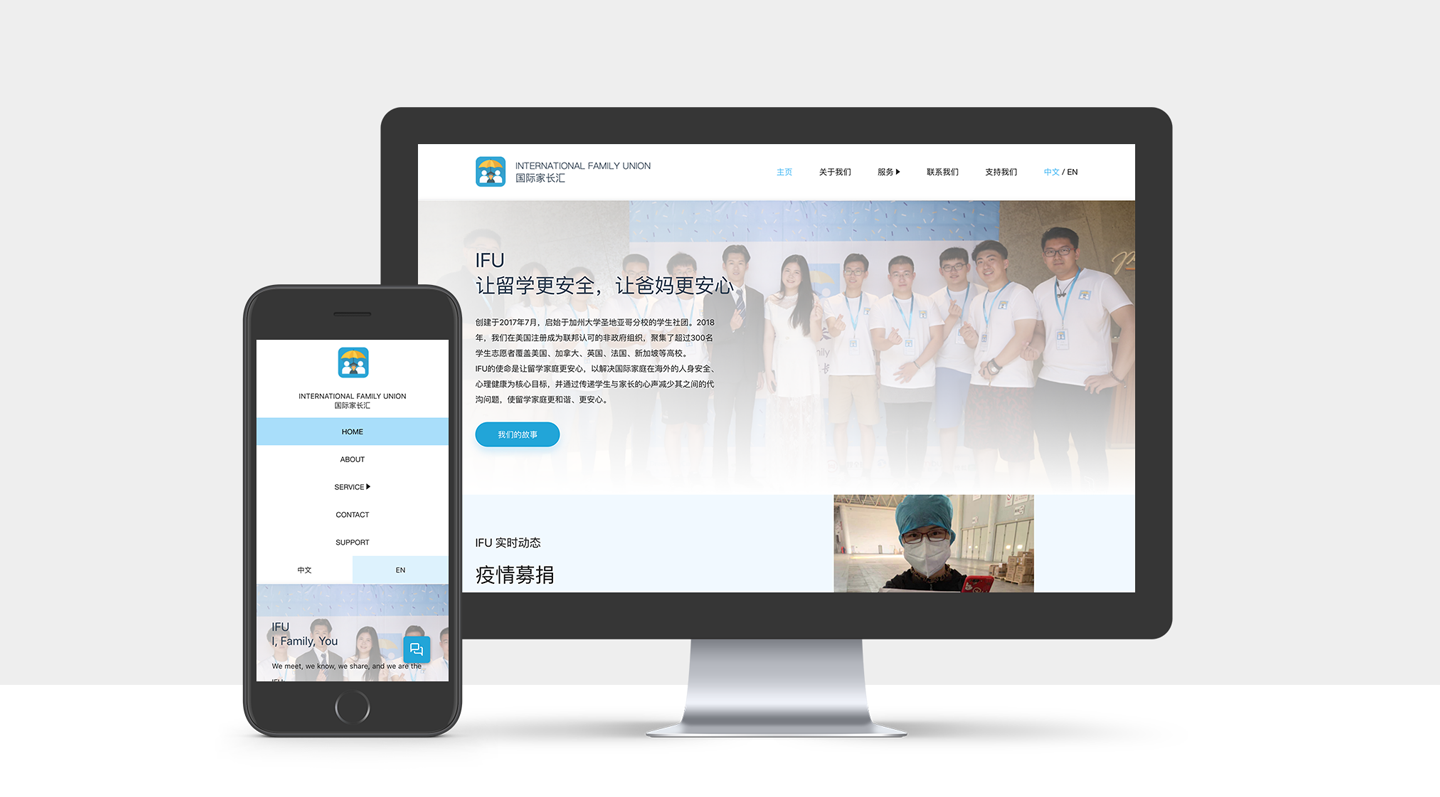 Since working on IFU's design team
remotely
for over a year now, I have learned and figured out how to become a better 
product designer
, 
project manager
, and
digital creative director
. I joined the organization in May 2019 as a
solo product designer
after reaching out to the founder for my entrepreneurship project. Since then, I started to recruit other designers and brought them on-board for the organization's website. We started from scratch, and along the way, I have grown so much
from production to leadership
. Even though I
don't have any mentor
in the organization to lead my way, I expanded my network and reached out to other professionals in the design communities for advice and mentorship, and then I took that knowledge back for adaptation. Therefore, I am thankful for this opportunity in which I got to
learn and practice these values
. Here are some key takeaways that I learned during the process:
• It's harder to build the team than build the design.
The core of a design team is its people. Ideas are just ideas. We need the right talents and a team with a great work environment/culture to turn ideas into reality.
• Get to know teammates as people first.
To have a high-performance team, we need to build trust between team members and form the bonds before starting to talk about professional tasks. This way, the team is more energetic, and people on the team have a sense of belongingness and ownership of their work.
• It's essential to have objectives in mind.
We tend to obsess over too many little details while working. But no matter what we do, having goals set in our minds helps the team focus on priorities and design for users and different stakeholders instead of just the look.
• Collaborate with other departments strategically.
The design department requires lots of collaboration and support from cross-functional teams in the organization. To have other departments help us achieve our goals, we need to think from their perspectives. Setting a plan with the same objectives will enable departments to work with us more efficiently.
We're still learning how to work together as a better team, and I'm still learning how to lead and serve everyone on the team better for them to shine. We are currently changing up our workflows for a more
structured and manageable system
. And we are also trying to bring
data and analysis
 into our design process and find the right
talents
on-board.